MUSE


2019 (6 Weeks)
Connected Devices
UX & UI
Branding
Solo
OVERVIEW⇢


Women's wellness using CBD through smart connected devices with the goal of alleviating symptoms from monthly periods and fluctuating hormone levels.
PROBLEM⇢
Women are vulnerable to depression at various times throughout their lives due to fluctuating hormones. These stages start as early as adolescence all the way to menopause.

But Muse's focus is for women who have periods and the uncomfortable "consequences" known as PMS (pre-menstrual symptoms) that come with it.
INSIGHT⇢

1

More women are incorporating cannabis into their self-care regimens, customizing their care needs with a variety of cannabis-derived options.


2

Female cannabis consumers turn to marijuana as a natural alternative to manage mood swings, menstruation, menopause, or mental health conditions.
RESEARCH⇢
Why CBD? There has been research found that CBD has been used by women from as early as 2000 B.C.E to alleviate symptoms related to pregnancy and menopause. According to Dr. Ethan Russo, a neurologist and medical researcher who has studied the cannabis plant for over two decades, states that in some traditions, it is used as a pain-reliever.
CBD & PMS: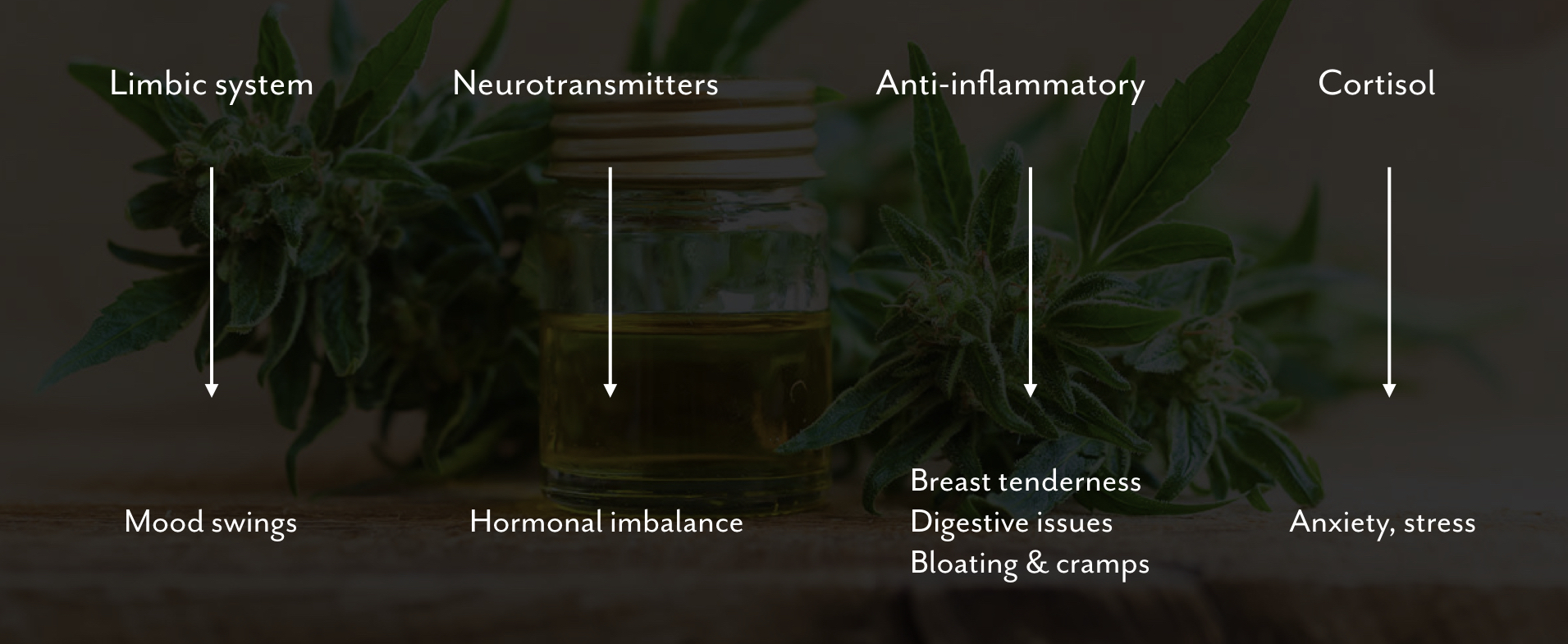 GOAL⇢
Having easy access and knowing one's own hormone levels will help understand what exactly is going on in the body to work with instead of fighting against it.


Using CBD to alleviate PMS-related symptoms before they have even arrived.
PRODUCTS⇢
Smart band that tracks stress
Vape that tests for hormone levels
Mobile app to collect and store personal data
---
VAPE: FEATURES
LIGHT INDICATORS⇢


Unlike THC, CBD has no obvious effects and therefore would need some experimenting over time to see its effects. The vape includes light indicators that recommends the dosage for each user according to her personal data.
SALIVA TEST⇢


Since hormone levels can be tested through one's saliva, the cartridge detects them simultaneously as users use pen and will passively be translated into the app to be read easily.
VAPE: PHASES
LEARNING⇢


Since everyone is different and reacts to things differently, there is a learning phase that lasts for one whole cycle where the vape doesn't suggest any dosage yet. It simply just collects data on how much CBD the user smokes according to which phase they are in their cycle.

AFTER⇢


Following the learning phase, the products have information to work with and will suggest a recommended amount daily, optimized to balance the hormone levels and stress patterns in regards to specific phases the user is in the cycle. Through the incorporation of AI, the vape will continually learn about the user passively.


SITEMAP⇢

---
DESIGN ITERATIONS

HOMEPAGE
CALENDAR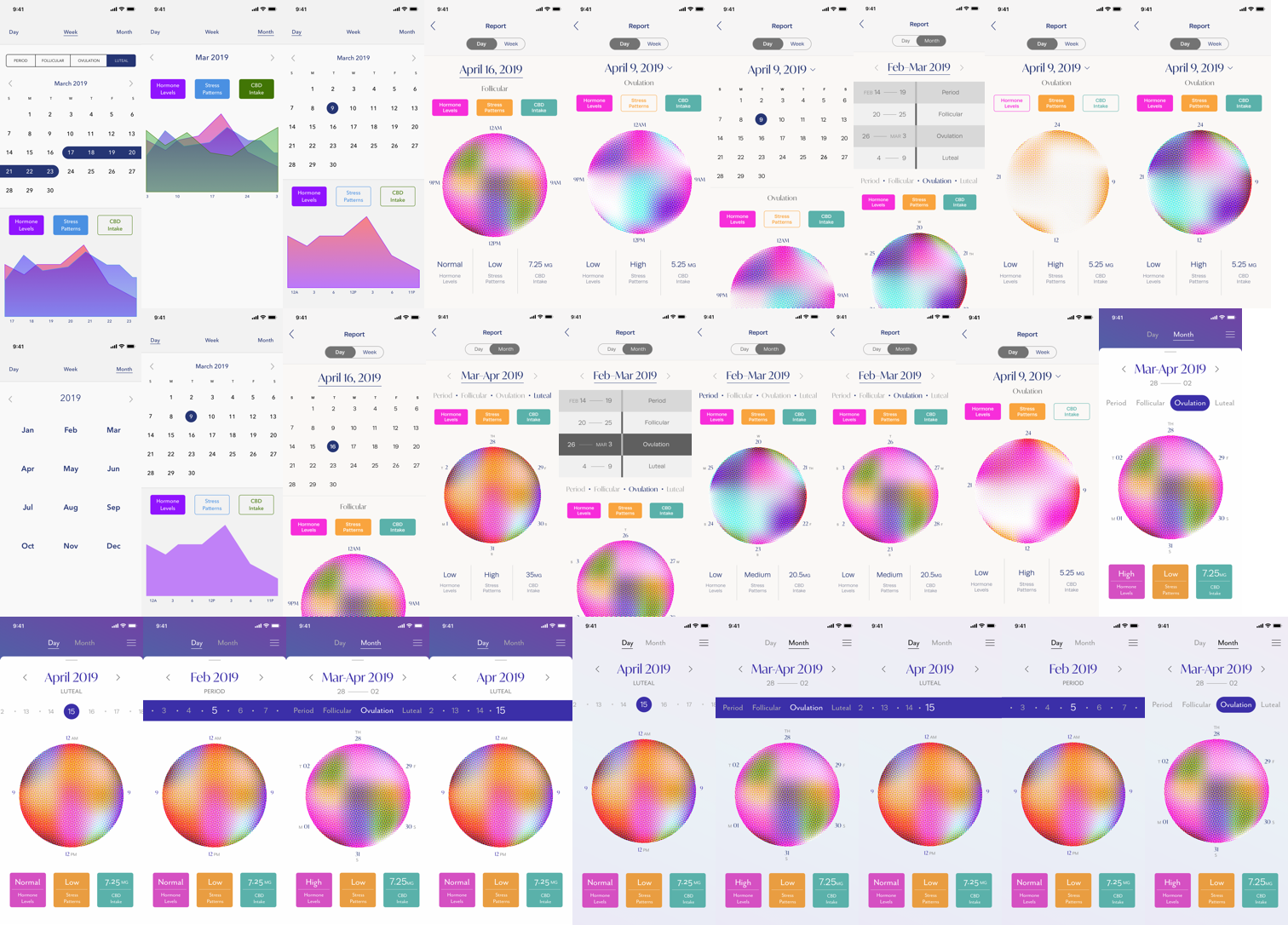 SETTINGS
DEVICES
GRAPH MESH
VERSIONS
---
FINAL PROTOTYPE

HOME⇢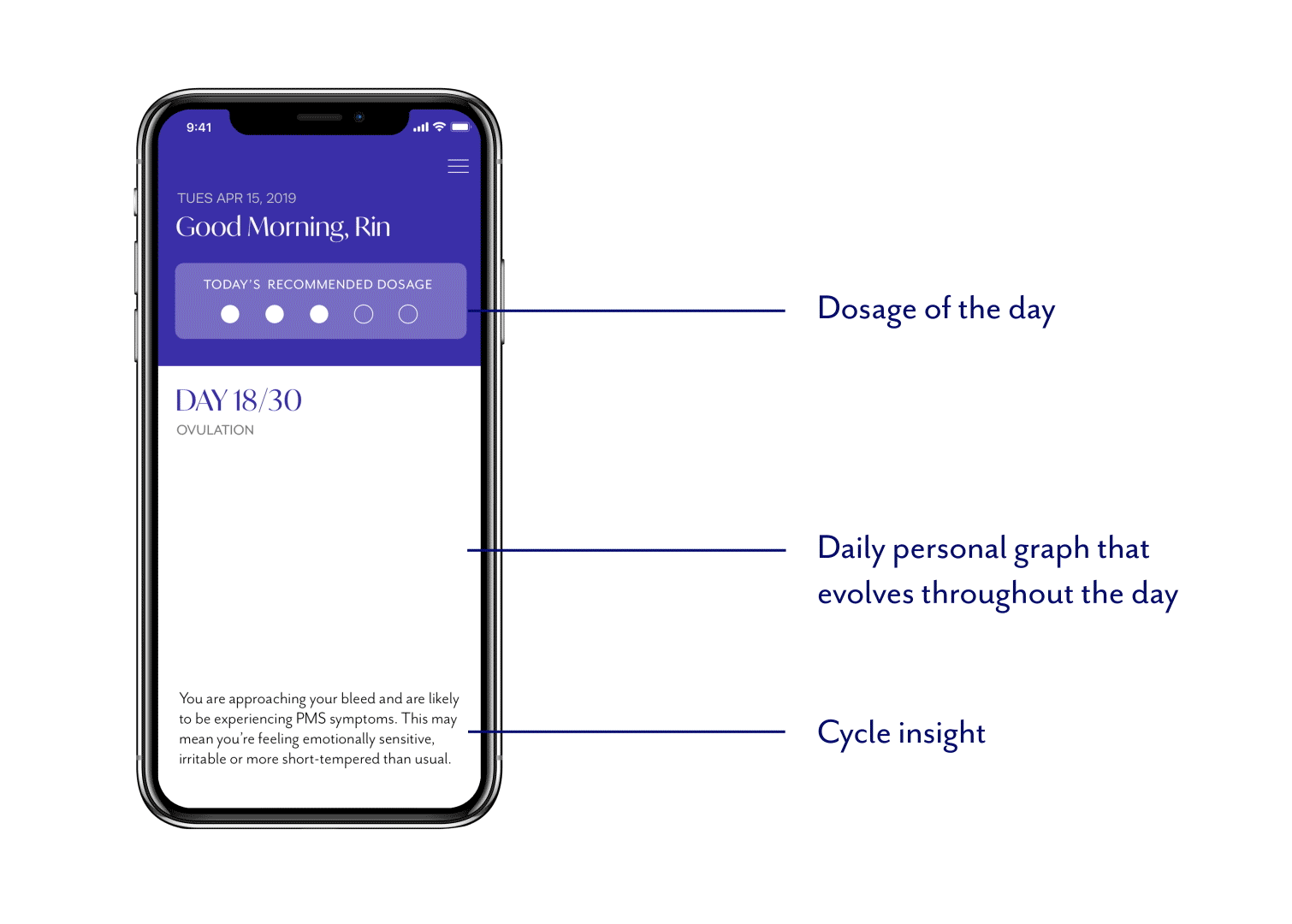 GRAPH SYSTEM⇢
IN USE⇢








CALENDAR⇢
Direct report of past data
REPORT⇢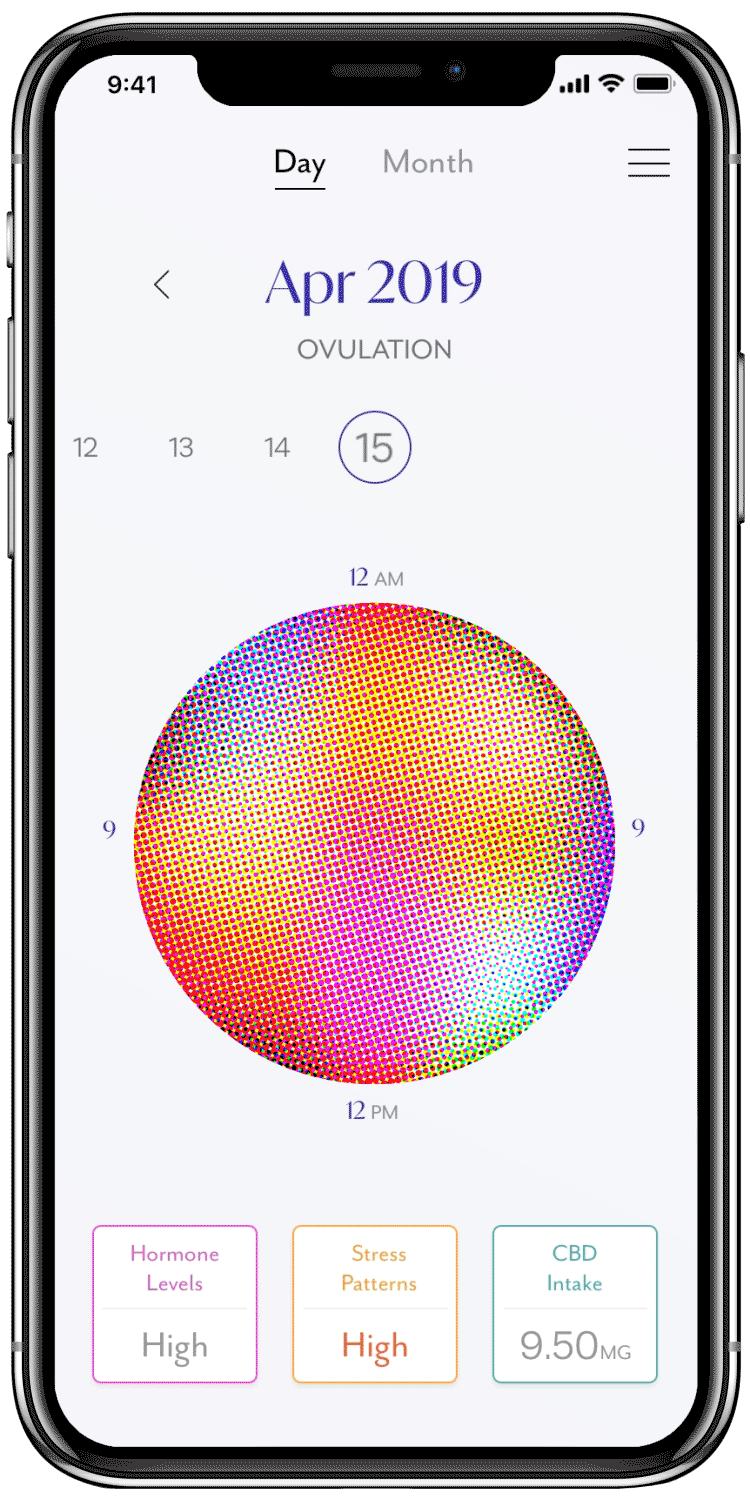 Day to day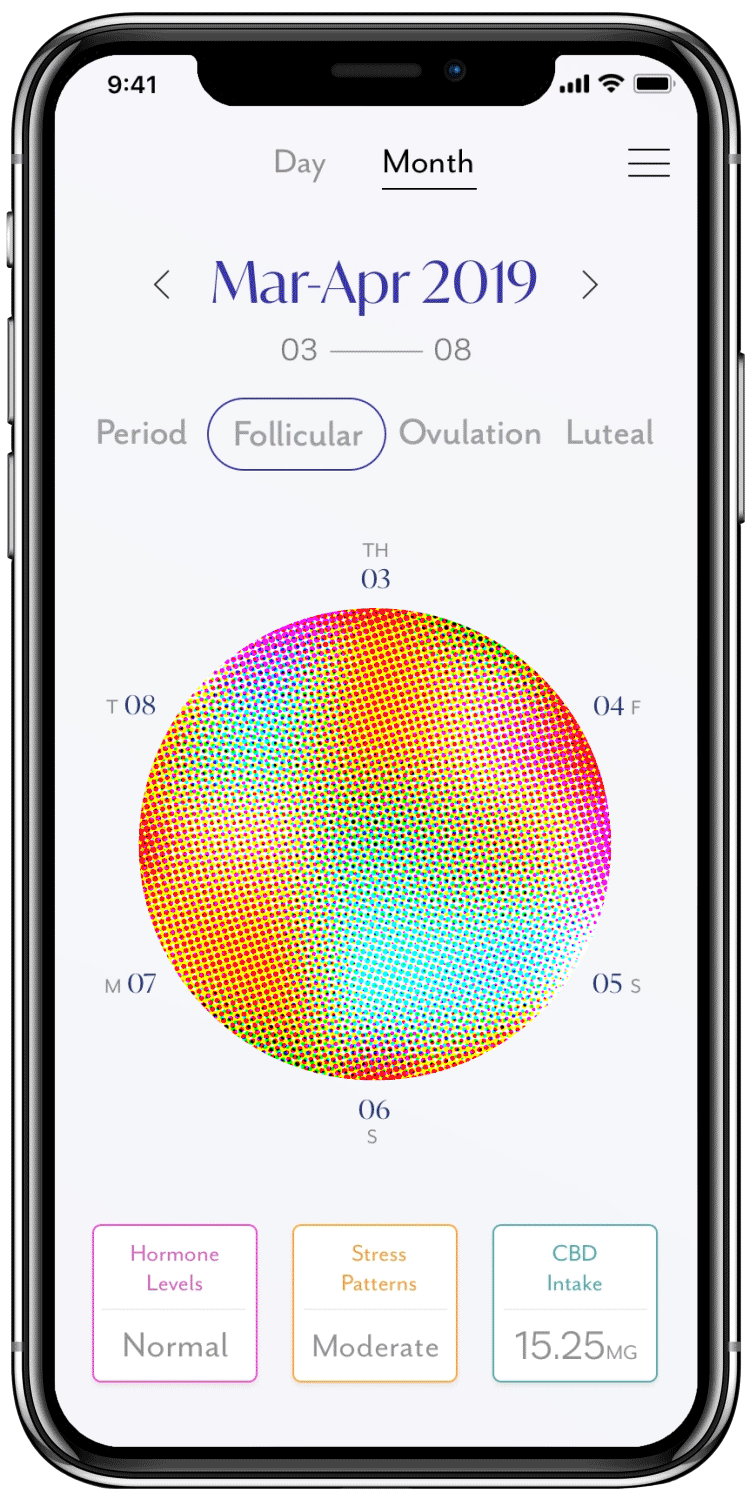 Phases per cycle
TABS⇢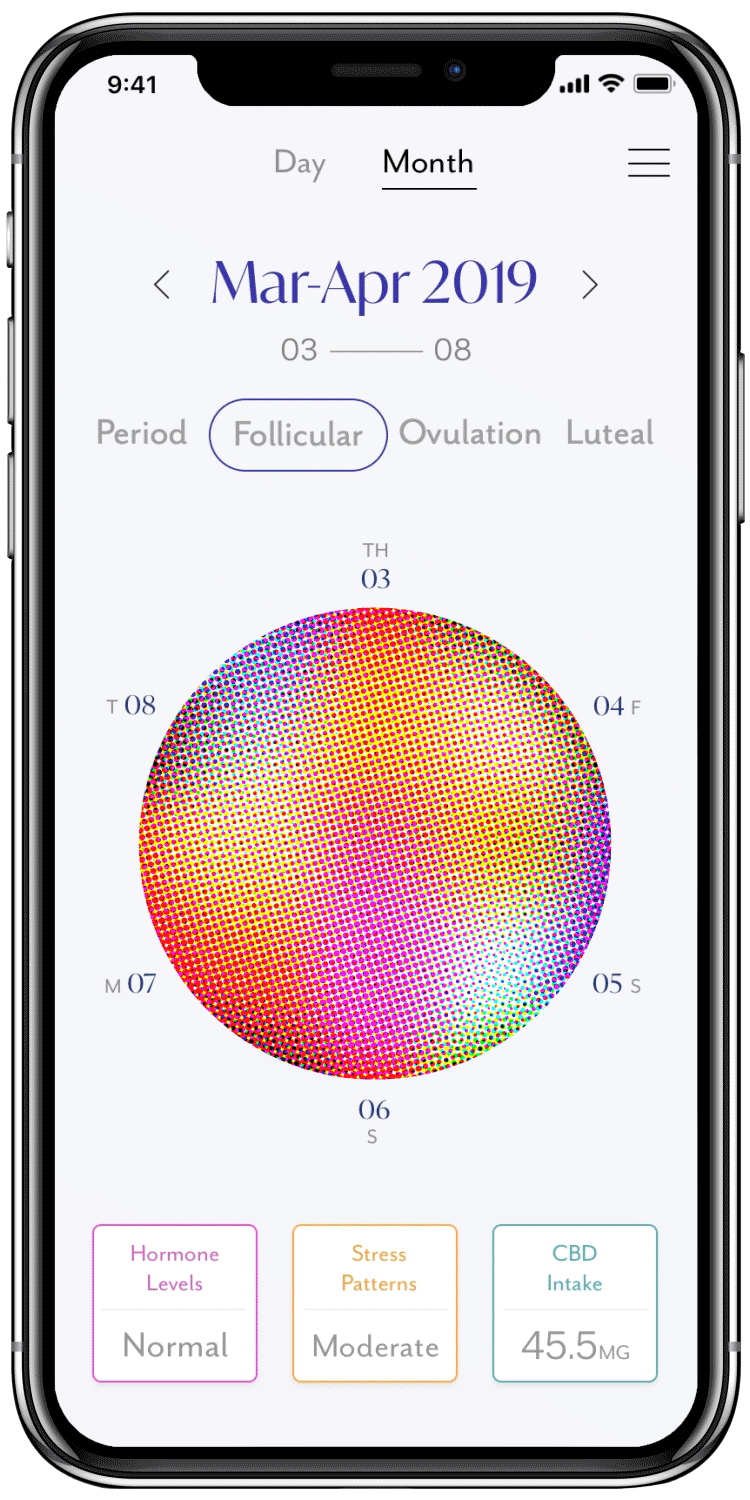 Turn on/off tabs to see each category in relation to each other.
SUBSCRIPTION⇢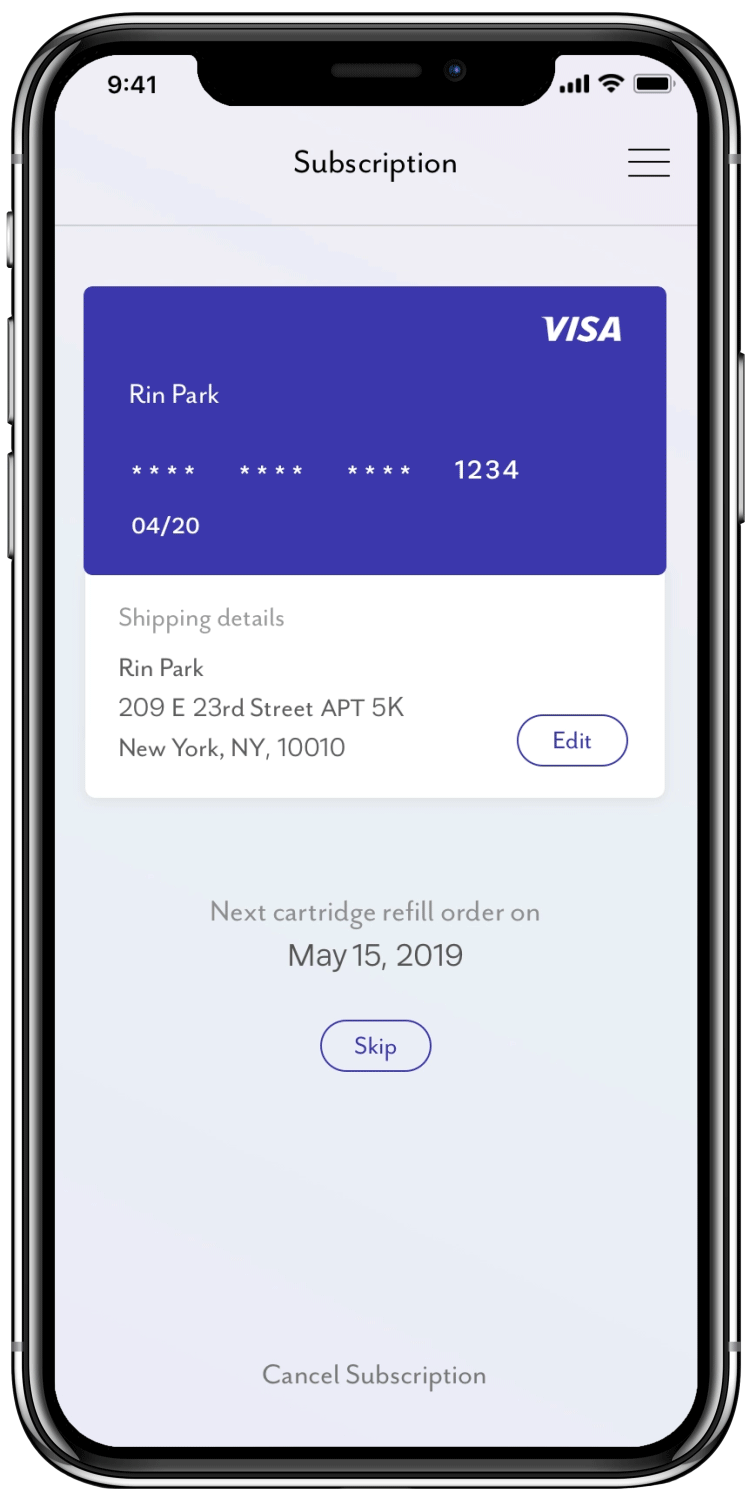 Given the freedom to skip upcoming months when desired.